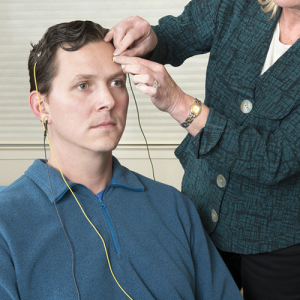 Written by Erica Andries  Have you or someone you know experienced an injury, undergone surgery, has a chronic illness, and experiences pain or inflammation that just does seem to go away? The Electro-Equiscope uses a technology that offers a unique and advanced approach to healing the body at a cellular level. Using a minute electric current (microcurrent), electricity is directed into the body using probes, plates, and other various attachments.  Typically, when people think of electric therapies, they think of an invasive treatment that can be uncomfortable. One of the amazing things about the Equsicope is that it is noninvasive and virtually pain-free. A lot of the time the client cannot even feel the current.  What is the Electro- Equiscope used for? The better question is, what is it not?!  This device has a diverse approach to aid in the healing of a wide variety of conditions, ailments, and illnesses. Working with the body's brain and nervous system, the results using this machine are incredible. Benefits of the Electro-Equiscope include but are not limited to:
Decrease in pain levels

Decrease in inflammation

Increased wound healing time

Improved flexibility, mobility, and range of motion

Improved sleep/insomnia 

Improved mental clarity and mood

Decrease in headaches 

Great for rehabilitation

Neuralgia and neuropathy

And MORE
By targeting specific areas of the body, an electric current is delivered into the tissues, adjusting the intensity to the client's needs. Various frequencies are then used, depending on the issue and what protocol will suit the needs of the situation. For example, there is a protocol specific for a chronic injury, muscle atrophy, and a different protocol for those who have acute inflammation to name a few. When using this device, we treat the body as a 2-way passage, creating a complete circuit. The current used is a trillionth of an amphere and goes deep into the tissues and into the cells. This allows the cells to become more "charged", bringing in more nutrients, pushing out toxins, and returning to the body's natural harmonic state.  Seen in the image below is a client before and after an Equiscope treatment. The before shows the inflammation a person has experienced in the posterior neck and shoulders. This could be from a whiplash injury. The after photo shows the results post-treatment. The inflammation has gone down substantially.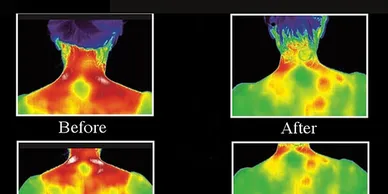 Let's say you go in for a knee replacement and would like to optimize your healing time so you can get back to some of your favorite activities. The Electro-Equiscope would be a great alternative to your rehabilitation! Without stopping your other modalities, use this treatment as an added boost!  To show some evidence, a German study looked at 78 patients who'd had a total knee replacement and were receiving regular rehabilitation therapies post operation. Researchers split the patients into 2 groups. One group received extra sham treatment and the other received additional micro-electric current treatment. Both had similar scores for their functioning at the beginning of the trial. They did however find that after 3 months, the microcurrent group's total function score was much higher than the control group.  The results from the study suggested that rehabilitation is most effective when using microcurrent therapy, as a part of the usual rehabilitation treatment after a total knee replacement. Since then, thousands of patients have used it successfully.  Have you tried everything, but your pain and discomfort don't improve? Come try the Equiscope for yourself! Our technicians at Supporting Wellness would love to help you on your journey to getting well!  Article Reference Info: [Effectiveness of microcurrent therapy as a constituent of post-hospital rehabilitative treatment in patients after total knee alloarthroplasty - a randomized clinical trial]. - Abstract - Europe PMC